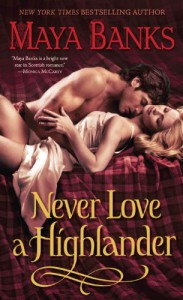 I gave the 3 stars easily. It's been a while since I was able to rate a book 3 stars and felt: yeah this is right. The past 3 months I have had a lot of 2 stars books and the occasional 3 stars. Maya Banks' Never love a Highlander, however, is exactly what I would call a 3 stars read: the book flows and is not sluggish. With likable characters and a reasonably crafted plot line. No emotional connection. Just a good story which one does not have to try to like.
I have originally marked this book as "Not Interested", because of Rionna, the warrior princess. I read the first 2 books in the series and was rather fed up with with all the flowery words from Ewan and Alaric, the 2 older brothers of the McCabe. What men talk like that? I wondered. When I got to this book, I decided to give Maya Banks' books a rest. I never could tolerate a warrior princess, or a woman trying to be a man.
Much to my surprise, I liked this book. Rionna was indeed a warrior princess. But Maya Banks managed to make her likable in my eyes. She was a fighter and a fierce one too. I think Maya Banks toned down her "mannish behaviors", without sacrificing her warrior-worthy abilities. Naturally her femininity was one of the conflicts in this book, but it was done rather well. Her fighting stems from a desire to protect herself and those she loved, not as a mean to self-fulfillment or identity. This sets Rionna apart from those warrior princesses that we see in the books, who needed the fighting to feel self-worth, prided themselves in their fighting skills because being able to fight somehow elevated them to the level of men, as if being a mere woman and feminine is not enough. I have huge problems with that. Low self-esteem is a deal breaker for me, in men and women.
Caelen was your usual highlander, not much to say. :D Thankfully Maya Banks chose to gloss over his "tragic" past in love, when his relationship with an evil woman brought down destruction to his clan. It was there in the background but did not affect Caelen and Rionna too much.
The plot line is the usual highland clan feuds. Poor Cameron served as the villain for the entire McCabe series, he was allowed to finally die when the last McCabe brother found love, how considerate. I thought it kind of lazy of the writer to use one villain over and over again. But well, it worked alright so why not?
This book is a typical highland romance but written with fluid proses and a moderately gripping story. I felt at ease the entire time reading this book. It kind of flowed over me and was just a pleasant reading journey. Now if Maya Banks could cut down all the sweetness on the male side, that would be grand. I seriously have trouble picturing any men saying those things Maya Banks has her heros say in the books. I much prefer men showing their love in actions, not words. I tend to doubt men who are eloquent in professing their so-called loves.